Interview with Biovoxel technologies founder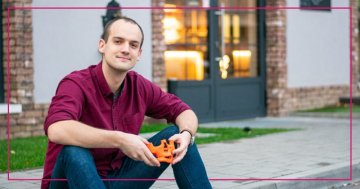 "It should be kept in mind, that unless it is a groundbreaking idea with huge funding, the project won't be profitable at first."
Even back as a student of dentistry, he and his classmates designed dental replicas that served as a tool for future and practicing dentists. Introducing Maroš Čižmár (28) dentist and founder of the company BioVoxel Technologies, who is dedicated to implementing new technologies in medicine and education.
In the interview you will learn:
Where to obtain money as a student for a

 

nontraditional project
How to deal with project not being profitable at start
What makes printing on a 3D printer unique
Whether the Slovak market is competitive enough to sell narrowly categorized products
What is the future of technologies in medicine
Maroš, what are your 3D models primarily used for?
"The goal of our replicas is to be able to practice endodontic treatment without the need for a live patient. The procedure using replicas is very similar to that of human teeth. All complications that could occur during this procedure can be experienced by students or doctors on a plastic model.
Endodontics is a subdiscipline of Dentistry. There are professionals who specialize in it all their professional career. This in itself, illustrates that it is a difficult field."
So how can an ordinary person imagine EndoTooth?
"We were able to create models that simulate real anatomy of a human tooth. They are transparent in order to follow the process of an endodontic procedure; inside they have a soft dental pulp with thin root canals and the hardness of the teeth is similar to dentin.
The replicas are made of a transparent polymer, which is basically plastic. People sometimes believe that our models can serve as implants, however this isn't true, it's strictly a training tool.
We produce them on a 3D printer. Due to the intricacy of the internal channels, which are very narrow and have a width of 0.1 mm in some cross sections, this is a meticulous manufacturing process."
How does a dentist access modern technologies and 3D printing?
"I think many young people today are interested in IT technology. But I didn't want a profession that consisted just of sitting behind a PC screen. Because of this, dentistry seemed fascinating to me, because it combined my passion for technology and medicine.
In my third year at university, our teacher Dr. Andrej Thurzo directed me to work with 3D printing. A group of doctors and medics – 3D printing enthusiasts – was formed at the Faculty of Medicine at Comenius Univeristy in Bratislava.
We were excited by the prospects of these technologies in medicine, and we spent a lot of time working with them.
How did your beginning with 3D printing look like?
One of our first success were the medical models of organs for various surgical departments. Thanks to these models, surgeons were able to evaluate and look at organs from all sides in advance and prepare better for the surgery. Of course, the main success of the operation depends on the doctor's skill, but it was a tool that allowed them to gather more information before the surgery. This made certain surgeries easier, it helped a lot."
It didn't only end up with organ replicas though. "our realization that these technologies have a huge prospect in medicine motivated us very much", the young dentist explains his motives. Finally he combined dentistry and technology into 3D models of teeth.
So you started with EndoTooth as a student? 
"Yes. I naively expected it to be ready in about a year, and that I would keep adding more products. Just like with many other projects, when one wants to do something really well, he gradually discovers that it may not be as simple as it seems. In the end, we have been developing these replicas for about three and a half years now. We saw that there was still room for improvement. It wasn't easy, we had to go through several challenges. However, I am proud that the replicas have finally reached this stage." 
What is the hardest part of this process? 
"The hardest thing is to print the models so that the inner structure of the root canals was as true to life as possible. We have tried about 20 different printers, techniques, materials and technologies. Another challenge was the chemical adjustment of the printing materials to meet the desired properties. 
The surface finish was also important to make the replicas nice, shiny and transparent, so that the doctors are well-oriented in their procedures.
And then the production itself. How to produce them, so that I wouldn't just make one bespoke piece and be happy it worked out. We needed to produce 200, 300, 1000 or more identical pieces, in short, serial production. "
Starting up such a project in Slovakia is probably not easy either technically or financially. Where did you receive the financial assistance to create such a model?
"We started with the aforementioned 3D models for surgery. As this was originally a student's project, we've had to secure most of the finances ourselves. We tried to obtain public utility grants from institutions such as Tatra Banka, Slovenská sporiteľňa and Leaf Academy. A number of such small grants allowed us to operate from our school.
However, we realized that even though we acquired a few thousands, it is not sustainable in the long term. My colleagues and I were thinking about a product that would give us a sustainable cashflow to allow us to finance other projects and ideas.
And so, we started with "Endotooth" as we call them.
How did your business start?
"The first year or two I had to put in a lot of time, energy and money. Yes, at the beginning it wasn't profitable.  However, this is to be expected from all projects unless it is a groundbreaking idea with substantial funding."
Maroš began his "dental project" with passion and enthusiasm. Initially, he thought the 3D models of teeth would be finished fairly quickly, but it was quite the contrary. "While working on the project, I graduated and started working as a dentist. It took me three years to bring the project to a stage with which I was satisfied. Today, the project has finally started making profit allowing us further development and innovation."
One of Maroš' side projects with BioVoxel Technologies is creating models of organs from 3D diagnostics (tomography, magnetic resonance, etc). "Doctors send us a CT-scan, we then virtually process it to 3D model. The model is subsequently 3D printed", explains the dentist.
Maroš presents his replicas at medical congresses. They are also used in private dental training centers, for which he produces customized replicas based on their requirements.
The goal is to establish it at universities. "In my opinion 'Endotooth' have the greatest value in education at the dental-medical faculties"     
In Slovak schools, 3D replicas have not yet been fully integrated.
Have you thought about moving the project abroad, for example to the neighboring Czech Republic or Austria? 
"Yes of course, the project is already used abroad more than in Slovakia. So far, mostly in Czech republic, but also in other countries. EndoTooth has a very narrow demographic. But who wants to be a good dentist, or more precisely a good endodontist, he necessarily needs training. It is not realistic in the future for doctors to learn everything directly in practice on patients when we have other options.   
If the product is ought to be a success, the Slovak market is not enough for me. 
Of course, I will be glad if EndoTooth is used as much as possible in our country. However, only the sales in Slovakia wouldn't be sufficient.   
I have to go abroad and succeed globally. That's why I have been developing the product for so long. Allready now, around 80-90% of the replicas are sold abroad, not in Slovakia."   
Maroš also mentioned successful cases from when they were just a fledgling company. "For example, for MUDr. Nosáľ and MUDr. Olejník we printed several models of children's hearts, to assist with difficult operations in pediatric cardiac surgery."   
They also designed 3D models for maxillofacial surgery, ophthalmology and traumatology. However, Maroš adds that although the models were helpful to doctors, this iniciative of organ models printing did not go as well as he thought. 
Do you think it would be different outside Slovakia? 
"If I were to hazard a guess, I would say it would probably be different. The most significant inspiration was taken from foreign 3D printing forums and articles. Overseas, such projects are generally more supported and funded.  
It will probably extend to Slovakia as well, but it will take some time. However, I am very pleased that the project has been so successful in the field of my discipline – dentistry. 
Where do you see the future of medical technology in the next few years?
"It will flourish, particularly within 3D printing. For example, I am fascinated by bioprinting i.e. printing from materials that are or might be populated with cells or biological material. It is a technique that draws predominantly from 3D printing with the key difference being the use of biocompatible substances. These are also compatible with the human body so replacing functional tissues is a possibility. The future is bright for medical science and is approaching us quicker than you might expect." 
Interview is a translation from slovak article original author : Veronika Greiner